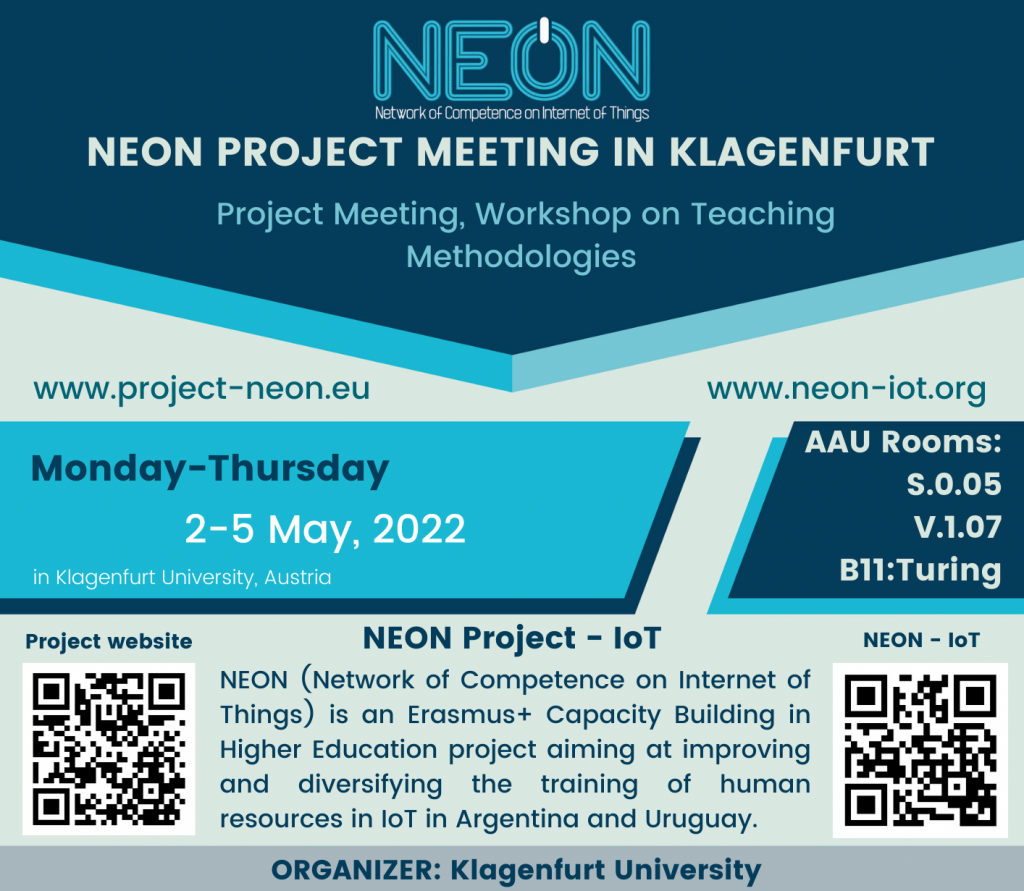 The event Workshop on Teaching Methodologies for IoT will take place May 3, 2022 in the framework of the capacity building project NEON – Network of Competence on IoT. The event venue is Lake Side Park B11 – Turing, Klagenfurt, Austria with the possibility to connect online via the Zoom link: https://zoom.us/j/96354598645.
Workshop program (Tuesday, May 3, Lake Side Park B11 – Turing)
8:45-9:00: Introduction (Dean of TeWi, Prof. Dr. Clemens Heuberger, TBC)
9:00-10:00: Invited talk 1: Lorenzo Vangelista, University of Padova, Italy – Teaching IoT and Smart Cities at Univ. of Padova: my experience from last 7 years
Coffee break
10:30-11:30: Invited talk 2: Stefan Pasterk, University of Klagenfurt, Austria – Didactical Aspects for Teaching IoT
11:30-12:30: Invited talk 3: Gleb Radchenko, Silicon Austria Labs, Austria – Industrial IoT and Fog Computing Support of Digital Twins
14:00-17:00: Case Studies Presentations and Discussions on Teaching Experiences of NEON Partners
To attend the event in person, please contact us via e-mail to reserve a place. Update: the registration is closed.
Meet our invited speakers: